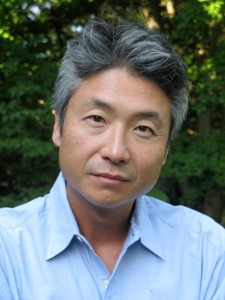 The 2013-14 season of the Bryn Mawr College Creative Writing Program Reading Series closes in April with distinguished author Chang-rae Lee. Winner of the PEN/Hemingway Award, Lee is the author of five novels: The Surrendered; Native Speaker; Aloft; A Gesture Life; and On Such a Full Sea, which is his most recent work. His novel The Surrendered was the winner of the Dayton Literary Peace Prize, and a finalist for the Pulitzer Prize.
Lee will read from his work Thursday, April 17, at 7:30 p.m. in McPherson Auditorium, Goodhart Hall, Bryn Mawr College, 150 N. Merion Ave., Bryn Mawr, Pa. All readings are free and open to the public. Readings are followed by book signings and sales. Books from each series guest are also available for purchase through the College book store.
The critic Dwight Garner describes Lee as "a graceful writer…a deft and original thinker about the vagaries of assimilation—about what it means to feel like a perpetual outsider in your adopted country".
Bryn Mawr College Visiting Assistant Professor of the Arts Daniel Torday notes, "In the suddenly almost twenty years since his first book, Native Speaker, won the prestigious PEN/Hemingway award, Chang‑rae Lee has been one of the major voices in American fiction. Bryn Mawr is very lucky to have him visit our Reading Series on the heels of the publication of On Such a Full Sea, which has received near-universal acclaim, and is certain to garner him even more laurels."
The Bryn Mawr College Creative Writing Program Reading Series will announce its 2014/15 season later this spring.
For more information visit the series website. For news and exclusive content, like "Bryn Mawr College Creative Writing Program Reading Series" on Facebook.
ABOUT CHANG-RAE LEE
Distinguished Author
PEN/Hemingway Award Winner
Pulitzer Prize Finalist
Born in South Korea, Chang-rae Lee immigrated with his family to the United States at the age of three. This experience of crossing a cultural divide is reflected in his writings. Lee's debut novel, Native Speaker, won the PEN/Hemingway Awards as well as the American Book Award. His most recent novel, On Such a Full Sea, is set in a dystopia and follows the struggles of a Chinese-American laborer. Selected by The New Yorker as one of the "20 Writers for the 21st Century," Lee is professor in the Lewis Center for the Arts at Princeton University and a Shinhan Distinguished Visiting Professor at Yonsei University in Seoul, South Korea.
ABOUT THE BRYN MAWR COLLEGE CREATIVE WRITING PROGRAM READING SERIES
In the almost thirty years since presenting its inaugural readings by Etheridge Knight and Toby Olson in the spring of 1985, the Bryn Mawr College Creative Writing Program Reading Series has brought major American and international writers in all literary genres to engage with students and the Philadelphia area community. Series guests visit Creative Writing Program workshops and present free public readings from their work.
The series has featured Nobel Laureates Nadine Gordimer, Wole Soyinka, and Derek Walcott; Pulitzer Prize winners Jennifer Egan, Richard Ford, Louise Gluck, Anthony Hecht, Edward P. Jones, Yusef Komunyakaa, Jhumpa Lahiri, Paul Muldoon, Suzan-Lori Parks, Adrienne Rich, Charles Simic, Mark Strand, Paula Vogel, Richard Wilbur, August Wilson, and Charles Wright; former Poet Laureates of the United States Stanley Kunitz, Robert Pinsky, Kay Ryan, and Charles Simic; National Book Award winners Frank Bidart, Lucille Clifton, E.L. Doctorow, Terrance Hayes, Ha Jin, Maxine Hong Kingston, Peter Matthiessen, Alice McDermott, and Jean Valentine; Obie and Tony Award winner John Guare; and other esteemed authors and translators such as Lydia Davis, Umberto Eco, Robert Fagles, Ian McEwan, Rick Moody, and Zadie Smith, among others. Bryn Mawr College Visiting Distinguished Writers Karen Russell (2011-2012) and Robin Black (2012-2013) are among the fiction writers presented as part of the Series. Other special events in the series have included a Tribute to Bryn Mawr alumna Marianne Moore, a program exploring connections between poetry and the visual arts, a recital of Beowulf by renowned performer Benjamin Bagby, a round-table discussion of the state of the short story in America, featuring four 2011 New Yorker "20 Under 40" honorees, and a public reading of John Milton's verse drama Samson Agonistes by actors and poets including Claire Bloom, John Hollander, John Neville, Rosanna Warren, and others.
The Bryn Mawr College Creative Writing Program Reading Series gratefully acknowledges support from the Jane Flanders Fund, the Marianne Moore Fund for the Study of Poetry, and the Miriam Schultz Grunfeld '69 Fund, established by Carl Grunfeld, M.D., friends, and family members in memory of Miriam Schultz Grunfeld '69. Since 1996, the Grunfeld Fund has enriched student life by supporting art history, the arts and literature.