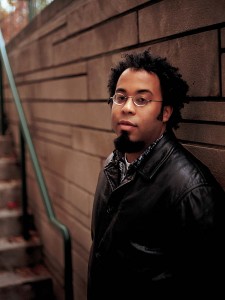 The 2013-14 season of the Bryn Mawr College Creative Writing Program Reading Series continues in February with distinguished poet and National Book Award finalist Kevin Young.
Young is the author of seven books of poems: Ardency: A Chronicle of the Amistad Rebels; Dear Darkness; For the Confederate Dead; Black Maria; Jelly Roll: A Blues; To Repel Ghosts; and Most Way Home, which was selected for the National Poetry Series. Young's The Grey Album: On the Blackness of Blackness, which combines essay, cultural criticism, and lyrical chorus to illustrate the African American tradition of lying-storytelling, telling tales, fibbing, improvising, and "jazzing," was a finalist for the 2013 National Book Critics Circle Award and on the shortlist for the 2013 PEN Open Award.
Young will read from his work Thursday, February 20, 2014 at 7:30pm in The Music Room, Goodhart Hall, Bryn Mawr College. All readings are free and open to the public. Readings are followed by book signings and sales. Books from each series guest are also available for purchase through the College book store
Writing of his work, the poet Lucille Clifton has said, "This poet's gift of storytelling and understanding of the music inherent in the oral tradition of language re-creates for us an inner history which is compelling and authentic and American."
Bryn Mawr College Creative Writing Program Director Karl Kirchwey notes, "There may not be another poet working in America whose exuberance is so ingeniously and variously grounded in grief as it is in the work of Kevin Young. Remix, blues, film-noir: every genre of art, and every medium, is available to him, and his ambition works at book length."
This reading has been made possible with the support of the Jane Flanders Fund and the Marianne Moore Fund for the Study of Poetry.
The Bryn Mawr College Creative Writing Program Reading Series continues its 2013/14 season with:
Francine Prose, Wednesday, March 19, 7:30 p.m., Thomas Great Hall
Chang-Rae Lee, Thursday, April 17, 7:30 p.m., Goodhart Music Room
For more information visit the series website. For news and exclusive content, like "Bryn Mawr College Creative Writing Program Reading Series" on Facebook.
ABOUT KEVIN YOUNG
Distinguished Poet
National Book Award Finalist
Born in 1970, Kevin Young is widely regarded as one of the leading poets of his generation, one who finds meaning and inspiration in African American music, particularly the blues, and in the bittersweet history of Black America. His many books of poetry include Ardency: A Chronicle of the Amistad Rebels, Dear Darkness, and For the Confederate Dead, as well as a non-fiction book, The Grey Album, winner of the Graywolf Press Nonfiction Prize and the PEN Open Book Award. His poetry collection Jelly Roll: A Blues, was a finalist for both the National Book Award and the Los Angeles Times Book Award. He is currently Atticus Haygood Professor of Creative Writing and English at Emory University.
ABOUT THE BRYN MAWR COLLEGE CREATIVE WRITING PROGRAM READING SERIES
In the almost thirty years since presenting its inaugural readings by Etheridge Knight and Toby Olson in the spring of 1985, the Bryn Mawr College Creative Writing Program Reading Series has brought major American and international writers in all literary genres to engage with students and the Philadelphia area community. Series guests visit Creative Writing Program workshops and present free public readings from their work.
The series has featured Nobel Laureates Nadine Gordimer, Wole Soyinka, and Derek Walcott; Pulitzer Prize winners Jennifer Egan, Richard Ford, Louise Gluck, Anthony Hecht, Edward P. Jones, Yusef Komunyakaa, Jhumpa Lahiri, Paul Muldoon, Suzan-Lori Parks, Adrienne Rich, Charles Simic, Mark Strand, Paula Vogel, Richard Wilbur, August Wilson, and Charles Wright; former Poet Laureates of the United States Stanley Kunitz, Robert Pinsky, Kay Ryan, and Charles Simic; National Book Award winners Frank Bidart, Lucille Clifton, E.L. Doctorow, Terrance Hayes, Ha Jin, Maxine Hong Kingston, Peter Matthiessen, Alice McDermott, and Jean Valentine; Obie and Tony Award winner John Guare; and other esteemed authors and translators such as Lydia Davis, Umberto Eco, Robert Fagles, Ian McEwan, Rick Moody, and Zadie Smith, among others. Bryn Mawr College Visiting Distinguished Writers Karen Russell (2011-2012) and Robin Black (2012-2013) are among the fiction writers presented as part of the Series. Other special events in the series have included a Tribute to Bryn Mawr alumna Marianne Moore, a program exploring connections between poetry and the visual arts, a recital of Beowulf by renowned performer Benjamin Bagby, a round-table discussion of the state of the short story in America, featuring four 2011 New Yorker "20 Under 40" honorees, and a public reading of John Milton's verse drama Samson Agonistes by actors and poets including Claire Bloom, John Hollander, John Neville, Rosanna Warren, and others.
The Bryn Mawr College Creative Writing Program Reading Series gratefully acknowledges support from the Jane Flanders Fund, the Marianne Moore Fund for the Study of Poetry, and the Miriam Schultz Grunfeld '69 Fund, established by Carl Grunfeld, M.D., friends, and family members in memory of Miriam Schultz Grunfeld '69.  Since 1996, the Grunfeld Fund has enriched student life by supporting art history, the arts and literature.